Blog Archive

Monday, July 11, 2011
Released by the Bersa Corporation in 1995, the Bersa Thunder .380 was designed for the CCW marketplace and for standard self defense use. It's part of the Bersa Thunder series, which also consists of the:
Thunder 22
Thunder 32
Mini Thunder 9
Mini Thunder 40
Mini Thunder 45.
Built utilizing a classic blowback model, the Thunder .380 offers above average accuracy. Even though the firearm is fairly light, it still offers sufficient weight to keep the recoil under control. The standard model features a 7 round magazine so the round count is 7+1. Bersa also sells extended mags that carry 9 or 10 rounds.
The Thunder comes standard with a significant number of user friendly features such as:
A small beavertail in the grip that protects your hand from slide bite
Manual safety/decocker
A magazine disconnect safety
Even though the .380 is believed to be an satisfactory self defense round, Bersa decided to use this round on the Thunder as a number of nations have limits on the size of the caliber that a civilian can own.To make the Thunder availabe in those nations, the .380 was selected as the caliber of choice.
While the Thunder has a considerable following, it is not without it's detractors. Some individuals complain that the Thunder has a small grip so they have issues getting a firm handle on the pistol. This seems to be most prevalent with people with large hands. In these instances, a magazine extension or Pearce grip extension may help.
The Thunder .380 is really an effective choice for both concealment or home defense. It's light enough to carry for long period of time and has sufficient firepower to deal with most self defense situations. It's also very affordably priced at a sub $350 price point.
One major plus for the Bersa Thunder is the outstanding trigger pull for a double action pistol. Having owned and fired well known, and considerably more expensive double action handguns; the Thunder has one of the best factory trigger pulls I've ever experienced. It's extremely smooth and consistent throughout the entire pull, breaking nicely around the 3 lb mark. Don't take my word for it. Test fire one and you'll be pleasantly surprised at this handgun in this price range. Both Glock and Sig could take a few pointers from Bersa on trigger designs.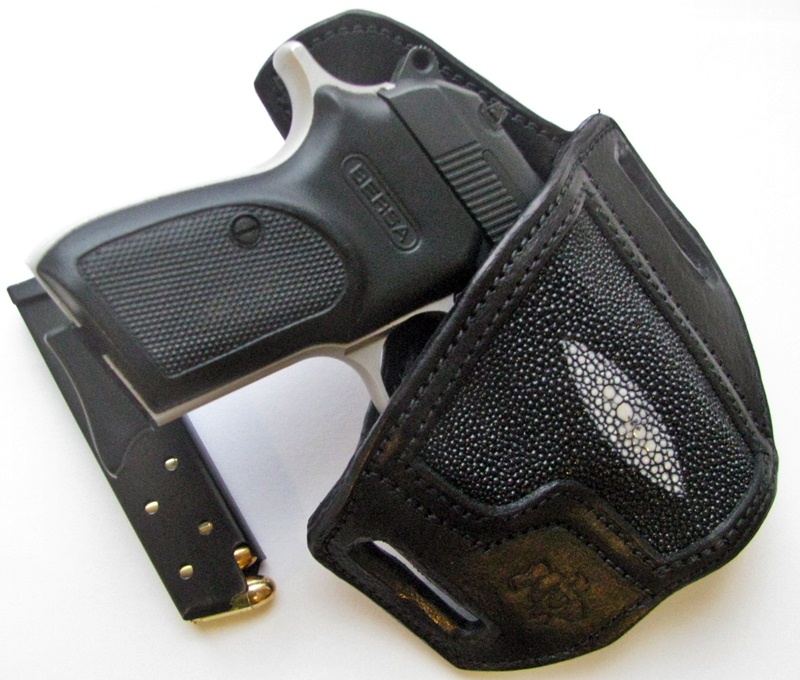 *I'm a big fan of quality leather and I don't know who makes the holster shown above, but it's one sharp looking Bersa holster!
To read the rest of this article, visit:=> Bersa Thunder .380 Holsters.
About Me
Concealed Carry Holsters
View my complete profile