Blog Archive

Friday, February 13, 2015
Since the Colt Mustang XSP model was introduced by Colt in 2013, we've been periodically getting calls about holsters to fit it. To make it easier for folks when shopping our site, here are some commonly asked questions about holster fits for the XSP model and the information that we can provide: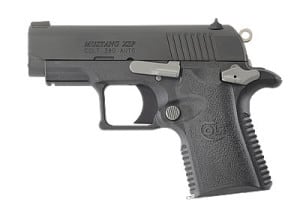 #1 – Will a holster made for the original Colt Mustang fit the new XSP version?
Not likely as the new XSP model has a more squared trigger guard while the original Mustang series is round. Also, the XSP model is equipped with a picatinny rail which makes the slide on the XSP wider than the original Mustang.
#2 – Will a holster for the older generation or newer generation Colt Pocketlite .380 fit the new Mustang XSP version?
Our experience has been that neither the original Pocketlite series or the newer 2nd generation Colt Pocketlite series will fit the Mustang XSP. While the dimensions on the Pocketlite are very close to the XSP, the trigger guard and light rail issues mentioned above cause the same fit problems.
#3 – I saw some information on a forum saying that the new XSP would fit a holster for the Sig P238. is this correct?
Not based on our test fits. While the P238 is somewhat similar in size and action, a Mustang XSP wouldn't fit into a holster molded specifically for the P238.
#4 – Does Don Hume make a holster to fit the Mustang XSP?
Hume makes holsters to fit the 1st generation Colt Mustang, but nothing to fit the new XSP version at the time this post was written. We have spoken with Don Hume management, and, at this point, they haven't seen enough inquires to justify the cost of tooling up to produce holsters for the XSP yet.
#5 – Do you carry any holsters that will fit for the Mustang XSP?
Yes, we do have a line of holsters for that weapon and you see them here: Colt Mustang XSP holster models.
Holsters for the Colt Mustang XSP
About Me
Concealed Carry Holsters
View my complete profile