Blog Archive

Tuesday, April 6, 2010
If you asked a group of shooters, law enforcement officers, or concealed carry permit holders to recommend the "best" ankle holster, you are going to get a wide variety of responses and suggestions.
Having tried nearly every ankle holster made during my law enforcement career, I'll be glad to give you an opinion based on my own experiences.
My suggestion for the best ankle holster you will ever buy is the Alessi ankle rig. It is hands down the cadillac of ankle holsters and outperformed everything else I've ever tested. My original Alessi ankle for my S&W J frame is over 15 years old but performs as well today as the day it left the Alessi shop.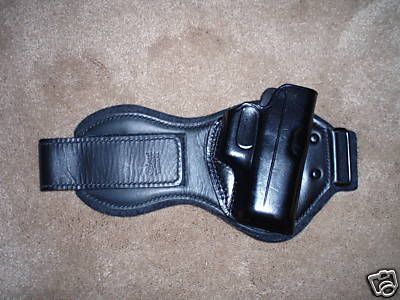 Since that time, I've ordered another 4 from Alessi for various other ankle guns and haven't been unhappy with any of them. The only downside to an Alessi is the fact that you will definitely have to wait at least 1 year to get it (unless you happen to find a deal on one locally or online). Alessi's aren't cheap so expect to pay a premium price for one.
Don't let that stop you though, as you will not be disappointed.
About Me
Concealed Carry Holsters
View my complete profile