Blog Archive

Sunday, May 23, 2010
I recently decided to try a new belt holster out so I decided to grab a Don Hume H721-OT from Gunner's Alley for my S&W M&P. The price was good and Don Hume has a good reputation in the shooting industry. This holster is available in either a saddle brown color or black. I chose to go with the black model.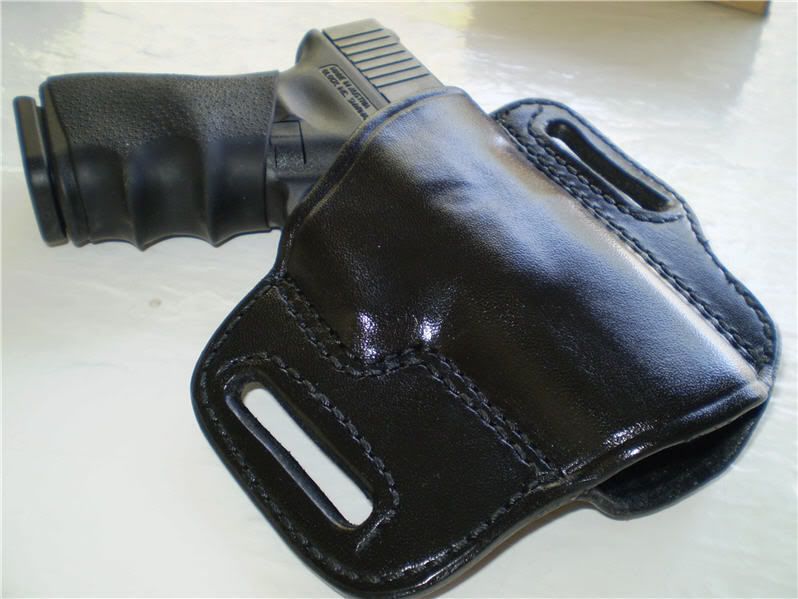 Gunner's Alley shipped my holster almost immediately and I had it in 3 days or so. My first impressions were good. The holster looked to be form fitted to the weapon with fairly good construction. Hume makes holsters using a production line process (think car manufacturing), so the quality isn't what you will typically find in a custom maker like Milt Sparks or Josh Bulman. However, for the money invested, I was pleased with the overall quality.
This holster rides a forward cant (although I don't think it's a true 15 degree cant), and the belt slots will fit any belt up to 1 3/4" wide. The H721-OT also has a bodyshield that does a decent job of protecting the wearer. Like any good holster, the M&P was very tight fitting at first and took some time to break-in. Once broken-in, I found the holster fairly easy to put on or take off. It concealed about as well as a holster of this type should. Not great, but not bad. I suspect that it would conceal better with a smaller handgun than the M&P.
Overall, I liked the holster and felt it was a decent value for the money. Given some feedback with Don Hume, I'd make the following suggestions for improvements:
Make the holster in specific belt widths versus a "one size fits all" width. I'd much rather have one with 1.5 inch belt slots that match my 1.5 belt instead of 1.75 inch clots.
Lose the semi-glossy finish - Although I liked the appearance, I didn't care for the semi-gloss finish that looks like it's sprayed on over the leather. Either handwax the finished product or create a manufacturing process that does that for you. Spraying some type of sealant or gloss doesn't seem to be a good business practice to me.
Having had the holster for a few weeks now, I think it's a keeper. If your budget is in the $40 to $50 range, then this one might be an option for you.
About Me
Concealed Carry Holsters
View my complete profile