Blog Archive

Monday, November 3, 2014
Over the last 5 years, the concept of adding a laser sighting device to a pistol has transitioned from a sort of gimmick to a mainstream idea that is embraced by a number of gun manufacturers and laser sighting companies. This concept is fairly simple…mount a laser pointer (of sorts) to the pistol, and then "sight" it in so the pistol shoots where the laser is pointed.
These days there are basically 4 different types of pistol mounted lasers. Let's look at each and then discuss the challenges of finding a holster that will fit your preferred handgun/laser combo:
#1 - Laser grips – This style of laser is a grip that features an integrated laser. The grip has a built in pressure pad so the laser is activated when the grip is squeezed. This style was made popular by a company called Crimson Trace and they still dominate the market for this style. This style can be a factory option where a pistol manufacturer offers a pistol model with the grips attached from the factory, or they can be an after market add-on.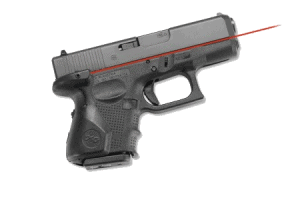 Crimson Trace Lasergrips – Glock 26
#2 – Trigger guard lasers – This style features an add-on to the trigger guard with a laser that emits from the front of the trigger guard. The trigger guard style is very popular, especially in situations where the pistol won't accept aftermarket grips or laser grips.The trigger guard models can also be a factory option on some brands or an after market add-on. The trigger guard laser example below is a Ruger LC9 with a factory option LaserMax CenterFire added.
Ruger LC9 with LaserMax CenterFire[/caption]
 #3 – Integrated lasers – This type of laser is manufactured into the frame of the weapon so it's always available. While this is a relatively new concept, manufacturers like S&W have seen excellent success with models such as the S&W Bodyguard series in .38 and .380. In the case of the Bodyguard series, it features an InSight laser built into the weapon frame.
[caption id="attachment_256″ align="aligncenter" width="319″>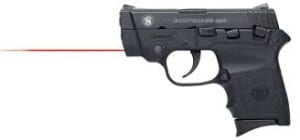 Integrated laser – S&W Bodyguard .380
 #4 – Picatinny mounted (universal) laser – This style of laser only works on hand guns with a picatinny or light rail under the frame of the barrel. The laser attaches to the picatinny rail and most are activated using a pressure pad or on/off switch. While this style was the norm a few years ago, it's popularity has waned in favor of the more modern styles above. These are commonly called "universal" lasers as they will fit most any handgun with the light rail.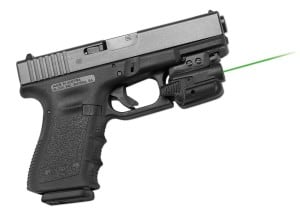 Universal laser – Glock 19
The trick isn't choosing a laser or handgun/laser combo. The trick is locating a holster that will fit the pistol and laser at the same time so here's some information that might help:
Don Hume – We receive a number of questions about the Don Hume line of holsters as it relates to laser mounted handguns. Unfortunately, Don Hume doesn't specifically produce any holsters that are made to fit a pistol/laser combination with 1 exception: Certain integrated laser models. Don Hume does make several holster models deisgned to fit both the S&W Bodyguard series in .380 and .38 with the integrated laser. Aside from those 2 models, Don Hume doesn't offer any options for handguns with mounted lasers.
MTR Custom – Now MTR Custom holster is a different beast altogether as they offer a large number of options for handguns carrying a laser. While there are far too many models to list here, have a look at the MTR weapon list under each holster and you'll see all the different options. Even if your specific weapon/laser combination isn't listed, it's probably worth either calling or emailing us about it as MTR is contstantly adding new pistol/laser combinations, Here's a link to all the MTR holster models we curently offer: MTR Custom Holsters.
Have questions about a holster to fit a light or laser combination? Give us a call and we'll do our best to help.
Let"s Talk Lasers & Holsters...
About Me
Concealed Carry Holsters
View my complete profile